Our flexible system concept offers different variations:
Innovative: staple or hook-and-loop fastener - both are possible with tempus2FIX
Combined: the synthetic fibre top layer is laminated to EPS or stitched to mineral wool.
Flexible: huge variability in processing, reliability in the fastening technique.
Practicel: double stocking is a thing of the past.
tried-and-tested: with the properties of the tempusFLAT KLETT family.
Simple: perfect installation with almost any hook-and-loop fastener pipe.
1.
tempus2FIX has a very thin top layer, which is printed with an installation grid (50 mm).
2.
tempus2FIX is doubly practical: the pipes can be attached using a hook-and-loop fastener or staple technique.
3.
tempus2FIX offers the tradesman the maximum variability and reliability.
4.
tempus2FIX saves plenty of space: double stocking is a thing of the past.
5.
tempus2FIX top layer is not only very thin, but also extremely tear-resistant.
6.
tempus2FIX is innovative, sustainable, efficient, and quick and easy to process.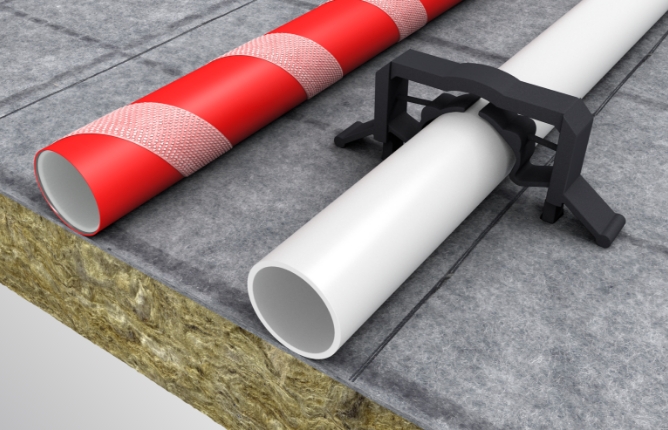 Variant with mineral wool
The basis is a non-combustible, environmentally-friendly mineral fibre insulation material. Pipe installation made easy: the synthetic fibre top layer is printed with an installation grid (50 mm). The perfect combination of fire protection, thermal and footfall sound insulation, ecology and ease of installation.
Base material non-flammable
Load capacity up to 20 kN/m² depending on the type
Ecological: no toxic pollutants
In combination with split fill, ideal for timber construction
System elements free to choose 15 mm – 35 mm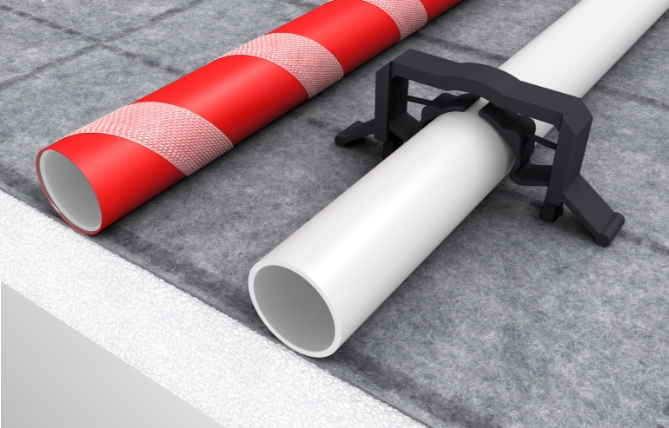 Variant with EPS
The EPS system panels are easy to install and suitable for various substrates such as wood and concrete. An up to 35* dB footfall sound improvement can be achieved with minimum effort. The thin synthetic fibre top layer also has a strong hook-and-loop fastener effect.
Up to 35* dB footfall sound improvement possible
Installation heights possible from 60 mm
Ideal for refurbishment and new builds
Shorter installation times
System elements free to choose 15 mm – 60 mm
* according to DIN 4109-34 with 60 mm EPS and 160 kg/m² area-related mass of the screed plate